Another win for our old friend Time.
Irony aside, a Buffy birthday is something to celebrate. Why? I polled a few friends of mine to ask why the show has a special place in their hearts and came up with some pretty unaminous answers… but you can't have a blogpost that just says 'BECAUSE IT'S REALLY GOOD', so let me expand.
Buffy Summers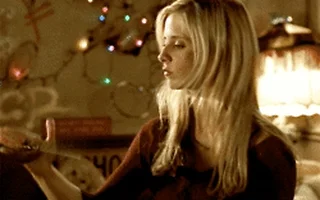 We love to watch Buffy because she's a multi-faceted heroine. Joss Whedon's empathetic depiction of a female character enabled him to create a strong woman that anybody could admire. Her physical and emotional strength coexist with her interest in beauty and relationships, she can defend herself without being portrayed as a 'bitch' and her quips are just as loved as her looks. She's interesting. She's enviable. Or as mi amigo Adam put it,
'Buffy is a kick-ass lady. And is hot.'
Big Bads: Vamps' and Violence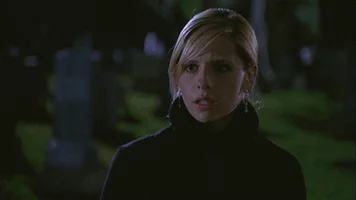 Every episode delivers some fast-paced fight scenes courtesy of Mr Pointy and the Scooby gang. Vampires are textbook cool creatures: immortal, pretty and nonchalant, however they're the arrogant enemy in a universe where ordinary humans are heroes. The Big Bads are often disguised as harmless, like 'the trio', who Whedon uses to highlight the threat posed by narcissistic entitlement.
Most of the fight scenes take place in the graveyard so we get a double scoop of spook, and you can often see the microphones in shot. So '90s.
Coming of Age: The High School Setting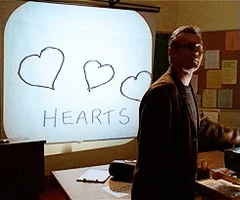 It's the perfect platform for a lot of heart-wrenching character development, as my friend Bridie pointed out, and it enables us to look at the 'cool kids' dynamic with a fresh pair of ambivalent eyes. We follow Buffy on the familiar journey from angsty teen to reluctantly responsible adult and we watch her grow as if we're holding a lens up to our own past.
Life Lessons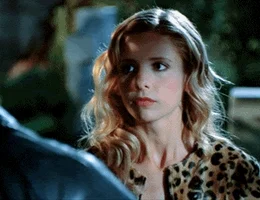 Buffy is so beloved due to its' thematic variety. Some episodes are non-stop comedy, some are quasi-horror shows and others simply break your heart. The wisdom sieved into the making of each story arc (beyond the first Season perhaps) is Whedon's way of sharing his own story in a way we all find accessible. He pinpointed the more discrete feelings we bury under the surface as though he was our personal psychologists, and that's a big part of what gives Buffy meaning.
From depression to grief to unrequited love, no avenue of human pain was off limits.
LGBTQ Representation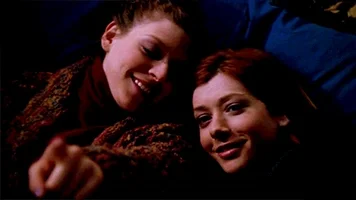 My friend Bridie articulated it's importance beautifully when she said 'the relationship between Willow and Tara was the first instance of a female same-sex relationship I'd ever seen on television. I know a lot of queer women my age credit that as something that helped them feel comfortable in their own sexualities.' Even now, onscreen lesbian love is often sexualised. Tara and Willow were so beloved because of how tender they were to each other (we'll glide over the obvious error he made when dealing with a certain character's treatment).
Spike
Spike isn't really a villain because we don't love to hate him, – we just love him. His aesthetic is based on punk rock Londoner Billy Idol and his personality reeks of a man trapped in the toxic masculinity of pretending to be tough when all you want is to feel love. We hate the things he does but only sometimes. His backstory shows us the sensitivity his current incarnation denies him and his flawed relations with Buffy are ultimately endearing.
He's there to remind us that nobody is entirely evil/give many fans a sexual awakening.
Five By Five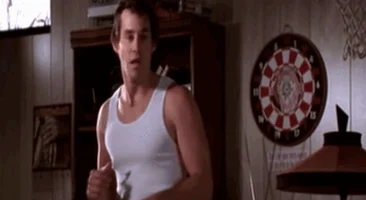 Quips and puns line the mouths of each character, whether part of the Scooby gang or not. Whedon has the talent of any hugely successful writer in that all Sunnydale residents speak with alien vernacular, where phrases like 'totally wigging' and 'five by five' apparently make sense. Despite this, every piece of dialogue is paced to perfection so it never feels stilted or unrealistic.
Once More With Feeling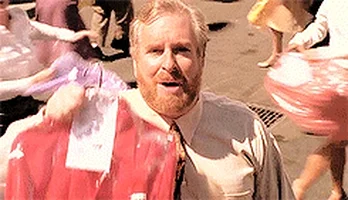 The musical episode is one of the greatest pieces of television aired to date. Importantly, the show doesn't take itself too seriously and thus throwaway humour and cheesiness is imbued into each installment of the chosen one. The musical episode is masterful because it gives us a dose of something different while proving that experimenting with format can pay off.
The list could go on and on….
It's camp, dated and hugely sentimental but still it stands the test of time. Buffy is the show that inspired lots of young women and made many alienated young people feel as though they weren't alone after all.